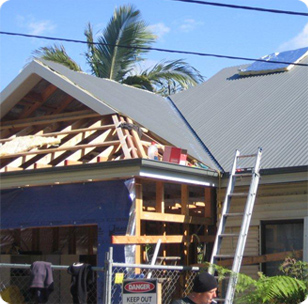 New Metal Roofing Installation Services: Residential, Commercial and Industrial Metal Roofing Contractors in Sutherland Shire, St George and Sydney
Under the hot Aussie sun, a house roof will deteriorate. Hailstorms, windstorms and UV all damage Sydney roofs - the sun eventually causes tiles to shatter and crack from the constant expansion, and the cement and mortar is turned to dust.
Perhaps just had your house renovated; now your roof looks hopelessly out-dated. An old, faded and unfashionable roof will reduce your property value.

Re Roofing older homes in Sydney
Tandem Trades - Expert metal re roofing specialist, is chosen by builders because we are a flexible, reliable partner specialising in Colorbond and Zincalume metal roofing and flashings . We provide realistic quotes, we are efficient and professional, and we clean up the site afterwards. Tandem Trades pride itself on being able to deliver quality jobs on time with a minimum of fuss.
Architecturally designed buildings that require high quality workmanship with attention to details is the type of work that we love to add to our portfolio.
Polycarbonate sheeting
Polycarbonate sheeting is used in a variety of ways. Although it is transparent, it reduces UV penetration. It is used over sundecks, over carports, and over pool areas, to allow light to penetrate.
There are a large range of colours that all have different characteristics in the way they deflect heat and allow light in.
Our metal re-roofing services include:

Re battening roof timber


Remove rubbish


Install roof insulation


Colorbond and Zincalume metal roofing and flashing


Guttering systems


Insulation blanket


Skylights and ventilation


Leaf Free Gutter Guard
Contact us for re-roofing your Sydney house today
Whether it's a new metal roof construction, roof repair, or metal re-roofing, just call us on 0439 417 147 for an obligation-free quote.
We offer new metal roofing, roof repairs, re-roofing, and roof ventilation services throughout the greater Sydney area including Sutherland Shire, St George, Inner West and the Eastern Suburbs Sydney for all residential, commercial and industrial customers.
Call Mick - Licensed and fully insured metal roofing expert contractors in Sydney on 0439 417 147 or send us an online enquiry.