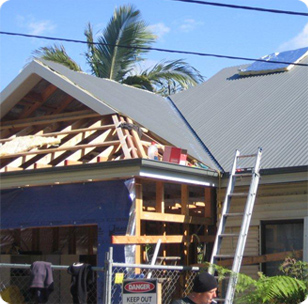 Metal Roof Construction Services - Modern Metal Roofing Contractors in Sutherland Shire, St George and Sydney
If you have completed an internal makeover, painted and put up decks, re-arranged the garden and made your home look amazing, then one day you'll notice how "tired" the roof is.
But you realise that the shape is wrong - it's old, it's uninteresting, it's not "modern". Perhaps you want an attic, perhaps you need Skylight - there are so many reasons to change your roof.
New metal roof design and construction services Sydney
Tandem Trades are experts metal roofing contractors in Sydney specialising in Colorbond and Zincalume metal roofing and flashings We can work with a designer to create a modern roof, and quote the job realistically, so you aren't paying too much.
Tandem Trades specialise in metal roofing construction. We have 25 years of experience, and have install new metal roofs in every area of Sydney. Our installers are trained tradesmen who are extensively experienced in metal roofing.
Quoting a Metal Roof
Tandem Trades is highly experience in metal roofing, and this allows us to give you the lowest quotes - we measure and estimate the roof very accurately, so there is almost no waste. With other companies who over estimate, you are still paying for the metal roof sheeting they waste.
Whether it's a new metal roof construction, roof repair, or metal re-roofing, just call us on 0439 417 147 for an obligation-free quote.
We offer residential, commercial and industrial roof construction services throughout the greater Sydney area including Sutherland Shire, St George, Inner West and the Eastern Suburbs Sydney
Call Mick - Licensed and fully insured metal roofing expert contractors in Sydney on 0439 417 147 or send us an online enquiry.